Network Service Area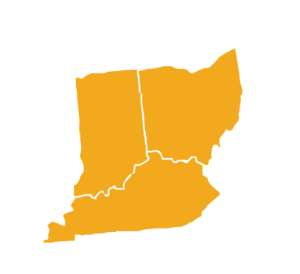 IPRO End Stage Renal Disease (ESRD)
Network of the Ohio River Valley (Network 9)
serves dialysis patients and providers in
Indiana, Kentucky, and Ohio.
Network 9 activities support approximately
31,640 dialysis patients with ESRD.
These patients receive treatment at
565 Medicare certified dialysis facilities,
including five Veterans Affairs hospitals, and
14 transplant centers in the Network service area.
For a complete analysis of ESRD patients, facilities, and transplant center census, please refer to the Network 9 Annual Report under Publications and Resources.
How May We Help You?
The Network has qualified staff members who are ready to assist with questions or concerns. Please visit the Network 9 Staff page, outlining contact information by department, which may assist you in directing your communication.
Boards and Committees
For a complete list of Board and Committee members, including terms of service, appointment year, state, affiliations, and position, please click here.
For questions or assistance, please contact us:
IPRO ESRD Network of the Ohio River Valley
Network 9 (IN, KY, OH)
3201 Enterprise Parkway, Suite 210
Beachwood, OH 44122
Main Phone: 216-593-0001
Toll-Free Patient Line: 844-819-3010
Fax: 216-593-0101
 info@nw9.esrd.net
 Click here to sign up for eNewsletters