The Centers for Medicare & Medicaid Services' (CMS) ESRD Network Program consists of a national network of 18 ESRD Networks responsible for each United States territory and the District of Columbia. These ESRD Networks service geographic areas based on the number and concentration of ESRD beneficiaries. The Networks are responsible for developing local objectives and goals that support national priorities mandated by CMS and the legislative requirements of Congress.
ESRD Networks are required to conduct specific Quality Improvement Activities focused on patient care, maintaining a patient registry, providing educational materials, and investigating patient grievances. These activities are described in the CMS
Statement of Work (SOW)

.
Each year quality improvement activities, and goals associated with the activities, are established. Facilities are encouraged to review both the
overarching

and

yearly

goals to best understand Network activities.
The Network of the Ohio River Valley (Network 9) services dialysis patients and providers in Indiana, Kentucky, and Ohio.
Network 9 activities support approximately 33,417 dialysis patients with End-Stage Renal Disease (ESRD). These patients receive treatment at 599 Medicare-certified dialysis facilities including 5 Veterans Affairs (VA) hospitals and 14 transplant centers in the Network service area.
For a complete analysis of ESRD patients, facilities, and transplant centers census, please refer to the current Network 9 Annual Report on the Publications and Resources page.
Our Network has qualified staff members who are ready to assist with questions or concerns. To assist in directing your communication, please view the Network 9 Staff page which outlines contact information by department.
For a complete list of Board and Committee members, including terms of service, appointment year, state, affiliations, and position, please view our Boards and Committees page.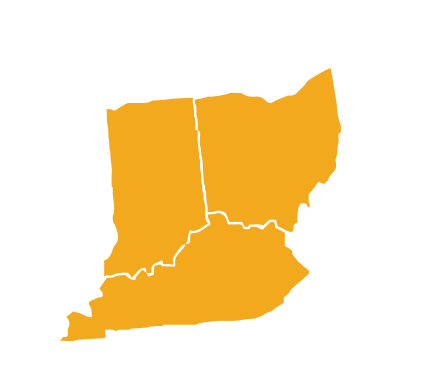 If you have questions or need assistance, please contact us:
IPRO ESRD Network of the Ohio River Valley
Network 9 (IN, KY, OH)
3201 Enterprise Parkway, Suite 210
Beachwood, OH 44122
 Main Line: 216-593-0001
 Toll-Free Patient Line: 844-819-3010
 Fax: 216-593-0101
 ESRDNetwork9@ipro.us